Cada cuarto jueves de noviembre se celebra
Thanksgiving
, una de las tradiciones más conocidas y típicas de EE.UU. Como sabréis, a nosotras nos encanta celebrarlo todo y la ocasión de hoy lo merece.
En Thanksgiving Day, también conocido como Turkey Day, las familias se reúnen al completo para dar gracias por todo lo bueno que tienen y celebrarlo rodeados de sus seres queridos. Cada uno se encarga de traer un plato típico, por eso tenemos la imagen de la mesa tipo banquete llena de comida. Hay muchísimos platos típicos que se preparan para Thanskgiving pero los más conocidos son: turkey with stuffing (pavo relleno), pumpkin pie (pastel de calabaza), corn bread (pan de maíz), mashed potatoes (puré de patata) y cranberry sauce (salsa de arándanos).
En casa, nuestra madre siempre se ha encargado de celebrar Thanksgiving por todo lo alto y ha sido la manera de poder vivir a distancia esta tradición tan americana.
Y para poder celebrar este día tan especial juntos, ¡os dejo con imágenes beautiful de Thanksgiving!
Turkey
Gravy
Apple Crumble
Corn bread
Turkey and stuffing platter
Home made mashed potatoes
Glazed Pearl Onions
Cranberry sauce
Carrot Cake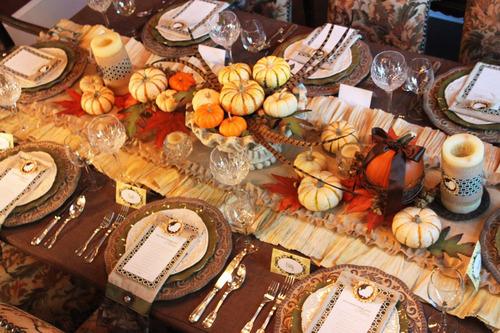 Photos: Atipica Living, Martha Stewart
Y para aquellos que no tengáis tiempo (ni ganas) de pasaros 3 días encerrados en la cocina pero queráis celebrar vuestro propio Thanksgiving,
aquí
encontraréis una solución rápida para salir del paso (pero nada beautiful).
Have a
Beautiful Thanksgiving Day!
From BCN,
C